Paddy Tipping, Police & Crime Commissioner for Nottinghamshire, will be attending a public meeting at Southwell Library on Wednesday, 16th January 2019, starting at 6.00pm. He will be accompanied by Inspector Heather Sutton, Neighbourhood Policing Inspector for the Newark and Sherwood area.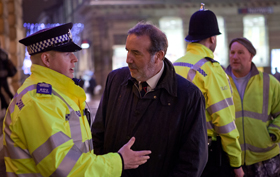 Former MP Paddy Tipping was elected as Nottinghamshire's first Police and Crime Commissioner (PCC) in November 2012 and re-elected with an overwhelming majority in May 2016.
As PCC he is responsible, in consultation with the Chief Constable, for setting the police budget and designing the Police and Crime Plan, which sets the direction for police service delivery in Nottinghamshire.  He also consults with local people to make sure their views are reflected in the way policing is provided and has the power to hire and fire the chief constable.
Inspector Heather Sutton has a broad policing career, having previously worked both on response and neighbourhood departments and as a Neighbourhood Sergeant for two very different areas within Nottingham City. She has been involved in a number of different projects, translating strategy into operational activity and getting things done. The main ones were around mental health and community resolution.
In 2015, she was seconded to Her Majesty's Inspectorate of Constabulary (formerly HMIC) where she worked as a specialist staff officer for neighbourhoods, antisocial behaviour and partnership work. During her time there, she also supported inspections into how the police deal with vulnerable victims and had the opportunity to work with victims directly, hearing first-hand the impact crime and disorder has. She collaboratively wrote and edited the 2015 HMIC review into neighbourhood policing, PEEL: Policing effectiveness 2015- A national overview.
Inspector Sutton returned to Nottingham in 2016 and, in response to national concerns, set up the proactive knife crime team under the CID department, helping to protect the public and target some of the most serious and complex offenders.
Residents will be able to put their questions to Mr Tipping and/or Inspector Sutton and are invited to submit them in advance to The Clerk at Southwell Town Council (clerk@southwell-tc.gov.uk), which will enable them to make enquiries where necessary to give an informed response.